Sweet Corn Recipe | Corn Uttapam | Mix Vegetable Uttapam | Corn Chilla | Makai Ka Cheela
2018-06-21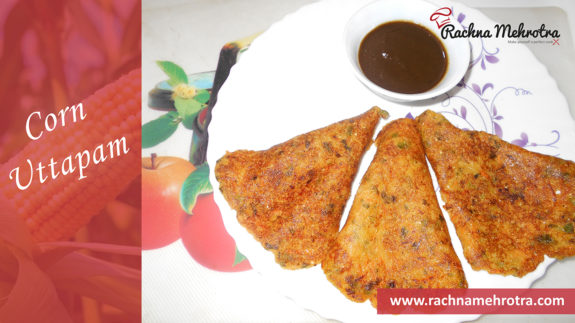 Sweet Corn Recipe, Corn Uttapam, Corn Cheella
Sweet Corn Recipe – Corn was indigenous to America, but is now grown throughout the world. It is used as a vegetable, briefly boiled or roasted or eaten with butter. And it would also interest you to know that the favourite popcorn, made by popping the small corn kernels, is a wholesome cereal food and is easily digested. Besides this, corn sees its use in various other ways – salads, soups, subzis and even sweets too!
For all the corn lovers, here's another easy peasy breakfast option. An instant Sweet Corn Recipe – Corn Uttapam tastes great and is healthy at the same time. This recipe also works when your day is rushed and where skipping breakfast is not an option. Corn Uttapam can be made in no time at all, as it requires no soaking or fermentation and grinding time is also very less.
Sweet Corn Recipe –
Uttapam is a tasty and healthy Indian snack or breakfast. Though Uttapam is originally from south India it is right now one of India's favourite breakfast dishes. There are so many variations of Uttapam like plain, vegetable uttapam, tomato, tomato onion, plain onion, and onion-green Chili.
Sweet Corn Recipe, a crispy uttapam, it tasted soo good and that justifies the post.
The uttapams are crispy at the edges with a soft center making it ideal for snack time or even for breakfast.
Sweet Corn Recipe will be loved by all. So, give it a try and don't forget to share your experience about this recipe in the comments. Happy Cooking!
Please, don't forget to share your experience about this recipe in comments.
Like — Comment — Share
Subscribe :- Rachna Mehrotra
Ingredients(1 cup = 250 ml)
Corn – 1/2 cup
Semolina – 1/2 cup
Curd – 1/4 cup
Finely Chopped Capsicum – 1/4 cup
Grated Carrot – 1/2 cup
Finely Chopped Green Coriander – 1/2 cup
Red Chili Powder – Less than 1/2 tsp
Salt – 1 tsp
Finely Chopped Ginger – 1/2 inch
Finely Chopped Green Chili – 2
Dry mango Powder – 1/2 tsp
Water – As required
You may like to check this collection of snacks recipes, Some of the popular ones are:
Average Member Rating
(0 / 5)
0 people rated this recipe