Rava Appam Recipe – How to make Rava Appe – Sooji Appam Recipe
2018-06-21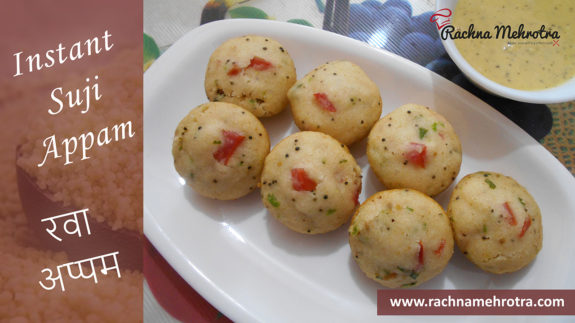 Rava Appam Recipe
Rava Appam is prepared with semolina and some chopped veggies. Appam is always been the most popular and favorite snack for breakfast. It not only makes a perfect breakfast but is healthy to eat too. Very less oil is used to prepare these appams and one can make the too quickly. These tempting appams can be a good option as a light snack.
Those of you are in a hurry but also don't want to compromise on serving your family with healthy and delicious food this Instant Rava Appe recipe, Appam recipe is for you
Semolina/suji/rava does wonders when you want to prepare a quick and instant snack. With the help of this single ingredient many dishes are prepared like rava dosa, rava uttapam, rava dhokla etc. It is also a very healthy option and you can prepare rava dishes in no time.
Rava appam is one of the easiest instant breakfast recipe, a south indian breakfast recipe which is known as paniyaram in tamilnadu, paddu in karnataka and ponganalu in telugu
Rava Appam Recipe – Benefits of Rava
Rava is a great energy source.
It also helps to lose weight.
Rava is very light in digestion so you can feed them during their bad health like fever or upset stomach.
Please, don't forget to share your experience about this recipe in comments.
Like — Comment — Share
Subscribe :- Rachna Mehrotra
Ingredients for Rava Appam (1 cup = 250 ml)
Medium Sized Boiled Potato – 6
Buckwheat Flour – 1/3 cup
Grated Ginger – Less than 1 inch
Finely Chopped Green Chili – 1
Red Chili Powder – Les than 1/2 tsp
Dry Mango Powder – 1/2 tsp
Roasted Cumin Powder – Less than 1/2 tsp
Rock Salt – More than 1/2 tsp
Finely Chopped Green Coriander – 1 tbsp
You may like to check this collection of snacks recipes, Some of the popular ones are:
Average Member Rating
(5 / 5)
1 people rated this recipe