Moong Dal Halwa recipe | Moong ki Daal Ka halwa Recipe | Moong Dal Sheera
2018-06-21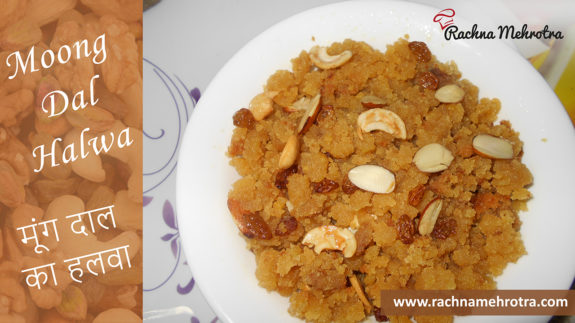 moong dal halwa, halwa recipe, sweet dish recipe
Halwa made from moong dal and flavored with cardamom and almonds. Its a perfect winter dessert.
Rajasthani Moong Dal Halwa is an Indian dessert made with skinless split green gram. It's a very rich sweet with loads of ghee and dry fruits and is made especially for festivals or weddings.
Moong dal halwa is delicious and one of the sweets you cannot stop eating. Its a perfect winter dessert. It's a classic recipe that is relished throughout Rajasthan during the winter months, as it is supposed to keep the body warm and protect it from the bitter winter cold. But making this halwa takes a lot of time and effort. so make this halwa on a day when you have plenty of time, patience and energy. However, the outcome is worth every minute of extra effort you put into it. You can make a larger quantity of this recipe and store it refrigerated for several weeks. Just add a little milk to the halwa before reheating it.
This halwa requires lots of patience and muscle work and also lots of ghee to come together. It also takes a long time to cook so be prepared for that. But I can assure you that the end result will be worth all the efforts.
This winter delicacy was
super yummy
it just melts-in-your-mouth
tastes divine
and every bite that you take in, leaves you craving more.
Please, don't forget to share your experience about this recipe in comments.
Like — Comment — Share
Subscribe :- Rachna Mehrotra
Ingredients(1 cup = 250 ml)
Soaked Split Green Gram (Moong Dal) – 1/2 cup
Ghee – 1/2 cup
Sugar – 1/2 cup
Milk – 2 cup
Cashews – 10 to 12
Almonds – 8 to 10
Raisins – 15 to 16
You may like to check this collection of dessert recipes, Some of the popular ones are:
Average Member Rating
(0 / 5)
0 people rated this recipe