Lauki ki Kheer – Doodhi Kheer – Ghiya ki Kheer – Bottle Gourd Kheer – Kheer Recipe
2018-06-23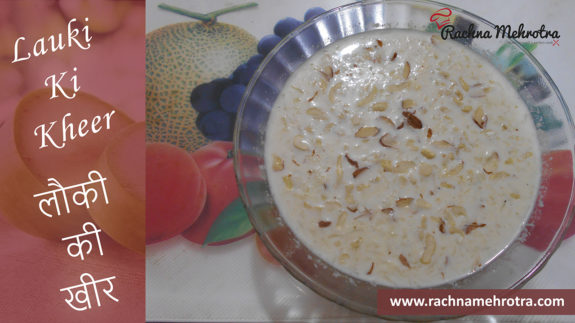 Lauki ki Kheer
Lauki ki kheer is a very simple and delectable recipe. It is a traditional North Indian delicacy that is prepared in most households.
Bottle Gourd kheer is very tasty. This lauki ki kheer can also be made during fasting days like Navratri. Although in many places it is also made with mawa but it does not taste like the kheer made without mawa. So, give it a try during your fasting or any other occasion and do not forget to share your view in comments.
Lauki is a cooling veggie to have during the summers, you can make several dishes with lauki from savory to sweet. Lauki, or bottle gourd, comes with immense health benefits for the body. Its rich dietary fibre content aids the digestive system and being low in fat and cholesterol content, lauki is an ideal vegetable to be included during vrats and also otherwise.
Ghiya ki kheer recipe is a simple preparation and wouldn't take a lot of your time. This recipe (lauki ki kheer) is very easy and even a beginner in cooking can make this kheer easily.
Bottle gourd has always been regarded as one of the healthiest veggies. This very versatile vegetable is full of water (about 92%) and minerals and keeps your body hydrated. Also known as Lauki or Doodhi in India, it definitely doesn't get as much attention as it deserves. "Bottle gourd is a vegetable high on water and is a rich source of vitamin C, K and calcium. It helps in maintaining a healthy heart and brings down bad cholesterol levels.
Please, don't forget to share your experience about this recipe in comments.
Like — Comment — Share
Subscribe :- Rachna Mehrotra
Ingredients for Lauki ki Kheer (1 cup = 250 ml)
Milk – 1 Litre
Bottle Gourd – 400 gm
Raisins – 15 to 20
Cashews – 5 to 6
Almonds – 6
Cardamom Powder – 1/4 tsp
Sugar – 1/3 cup
Have a look at the lauki ki kheer video recipe to prepare this yummy treat for vrats and fasts.
You may like to check this collection of sweets & dessert recipes, Some of the popular ones are:
Average Member Rating
(0 / 5)
0 people rated this recipe